Our
Tours
Family adventure. Safe but exciting. No experience needed. Incredible wildlife. Value for money. Experienced guide. World Heritage area. All tours are $120 per rider (plus $60 per passenger). Allow three hours. Leavings from the carpark opposite the bakery in town (see map below). Our bikes are easy to drive and are fully automatic, are twin seaters and have high back rests. Your guide Laurie McKell.
The "Awesome Quad Bike Adventure" represents super value providing a 3 hour adventure you'll never forget. In three fun filled hours you'll see so much of Shark Bay's most popular…
There's no better way to end your day! Cruise your quad bike along pristine Shark bay beaches then meander up to the highest point in the area where you can…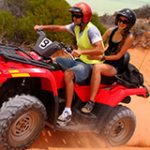 Jim is a fantastic guide with mountains of local knowledge. After leaving town we stopped at numerous locations where jim explained the local area to…
Amazing and exciting
WOW we did the three hour tour and it was awesome, saw some great little spots, loved taking the hikes on the beach. Our guide…
Great tour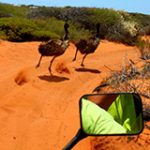 Wife, two teenage kids and myself all enjoyed this immensely. Bikes are easy to ride - a bit of a learning cure to be able…
Whole Family Enjoyed It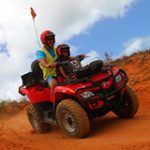 If you are in the area and have a couple of hours spare, this would have to be the best way to see the area…
Easily the most fun way of seeing the area!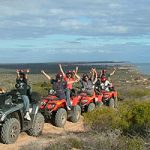 We had a great time on our tour. We saw a lot of different sights, great views and wildlife. Our guide was friendly and informative.…
We had a great time
(Unofficial) Customer Video
Awesome Quad Trek Adventure
(approx 3 hours)
$120
Mornings: 9:00 am till 12 noon Afternoons: 2:30pm till 5:30pm
Book today!
Tours can be booked through the Shark Bay Discovery Centre Ph 08 9948 1590 OR directly with your guide Laurie McKell on 0429 110 105